California Clerk of Court
If you have received a traffic ticket in California, the process of paying your traffic ticket, electing traffic school and submitting your certificate of completion is all done through the clerk of court in the county where you receive your traffic ticket.
Use our directory below to find your clerk of court. Each county name provides detailed instructions on dealing with a traffic ticket and electing traffic school. Also find answers to frequently asked questions such as where to find your citation number, how online traffic school works, traffic ticket fines and more.
Lowest Price Traffic School offers traffic school and defensive driving online courses that are approved in participating California counties by the California Department of Highway Safety & Motor Vehicles. Use our traffic school directory to get information about defensive driving courses and guidance on dealing with traffic tickets in your city.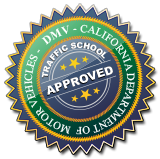 $19.95
Register Now
California Online Traffic School
This is the California 8-Hour Traffic School for Masking Points & No Insurance Increase, also known as Defensive Driving School. If you received a traffic ticket in California, take this course to avoid points on your driving record.