Rather Take the Course Online?
In addition to in-person classes, we also offer our 4-hour Basic Driver Improvement traffic school course entirely online for your convenience! At Lowest Price Traffic School, we recognize that the world is becoming increasingly mobile and we strive to do what we can to provide for our students' fast-paced lifestyles. With our online courses accessible on laptops, desktops, tablets, and even smartphones, there's no reason that you can't complete our program. Put simply, we make it easier than ever to access the course materials.
4-Hour Basic Driver Improvement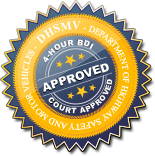 By enrolling in our 4-hour Florida Basic Driver Improvement traffic school course, you can:
Eliminate points from being added to your Florida driving record;
Eliminate your insurance premiums from being raised as a result of a traffic citation; and
Maintain your Safe Driver status for continued insurance coverage.
Approved by the Florida Department of Highway Safety and Motor Vehicles, our online and in-person programs are convenient, practical, and effective. If you have been court-ordered to attend and complete this program, you can rest assured knowing that our course will help you satisfy the state's requirements. Enroll today and start reaping the benefits!
Learn More
$5.94*
Register Now
*Plus State of Florida Assessment Fee & Processing Fee, and/or ADLTS Fee as applicable More Info