Rather Take the Course Online?
If you'd like to take our 4-hour Basic Driver Improvement traffic school course online, you can do so! We are happy to offer this program entirely online for your benefit, as we recognize that the world is increasingly mobile. For this reason, we have made this course accessible on all kinds of mobile devices, including laptops and tablets. Suffice to say, you can complete the course at a time of your choosing. Whether you're at your local coffee shop, the library, or on the bus, our online course is available!
4-Hour Basic Driver Improvement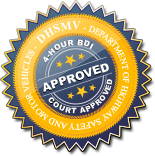 Our 4-hour Florida Basic Driver Improvement traffic school course allows you to:
Avoid points being added to your driving record;
Prevent your insurance premiums from being raised following a traffic citation; and
Maintain your Safe Driver status.
And perhaps best of all, this program is court approved in the State of Florida. You have nothing to lose and everything to gain so enroll today!
Learn More
$5.94*
Register Now
*Plus State of Florida Assessment Fee & Processing Fee, and/or ADLTS Fee as applicable More Info