Pass the DMV Road Test with Confidence!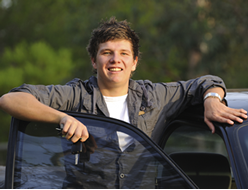 Regular Price $49.95, Special this month only $19.95

Only $19.95! Register Now

It's 100% online and shows you exactly what the DMV examiner will be looking for!

Get "Behind the Wheel" training with the National Safety Commission's home simulator course!

Learn the Top 5 Reasons for Failing your Road Test.

Get a Checklist for Pre-Road Test Inspection and the DMV Road Test Manuevers
Prep Course for DMV "Behind-the-Wheel Driving Test"
Before you get out on your own, learn the important driving skills you will be tested on to receive your driver's license.
Safely perform ALL 12 Driving Maneuvers
100% Online - Practice as many times as you need too!
Your ticket to passing the DMV Road test the 1st time!
America's #1 rated Online Behind the Wheel Course
Don't make the same mistakes on your driving test...
Practice with our "Behind-the-Wheel" Simulator Course!
---
Hints for the Florida Driving Test
Some of the things to expect are sticking points OR tasks which most new student drivers find difficult to master.
Vehicle Not Passing Inspection
This is the most commonly overlooked part of a road test. Failing to pass the initial vehicle inspection will keep a new driver from even beginning the road test. The vehicle inspection is important, not just to satisfy the examiner but to ensure that your vehicle is safe enough to be on the road with other vehicles.
Parking
You may have to show your ability to successfully park your vehicle both in a standard diagonal or straight in parking space and a parallel parking spot. Both take a lot of practice because, if you should hit the cones that signify the position of another car, you will automatically fail the test.
Slowing Down and Braking
Waiting too long to brake will cause wear and tear both on the brakes themselves and on the driving examiner. Know when to start braking so that you can smoothly bring your vehicle to a stop at exactly the right place. You will probably also have to demonstrate your ability to make an emergency stop.
Not Stopping Completely at a Stop Sign or Stop Light
This is probably the most common reason for failing a road test. Drivers who think they have stopped for a stop sign but are actually still slowly moving forward. When you have to stop for a stop sign or a red light, stop completely! To make sure you have stopped, once you think the car has come to a complete stop, press down even harder on the brake pedal and count to four before releasing the brakes to proceed.
Signaling
A part of safe driving operation is letting other motorists know what your intentions are. Always use your turn signal not only when you are turning a corner but when you are changing lanes and even when you turn into or back out of a parking spot.
---