Step 1. Sign up for the Florida Traffic Law and Substance Abuse course and select the classroom option.
Go to www.LowestPriceTrafficSchool.com and click "Drug & Alcohol Course ". Next, click the "Classroom Traffic School" link.
Or, view the classroom locations below.
Step 2. Select a classroom.
Please select an option from the list of available classrooms.
Step 3. Complete the registration form.
Enter the following information:
Name, Email Address, Address, Phone
Date of Birth and Gender
Step 4. Enter your payment information.
Payment will be processed by LowestPriceTrafficSchool.com. Your information will be kept secure and private.
Step 5. Attend the course.
Arrive early on the day of the course. By state law, late arrivals must reschedule the course. Bring a pen and your identification. Our instructors are certified by the state of Florida to teach the Basic Driver Improvement course. Many students enjoy the interactive nature of the driver education classroom.
Step 6. Receive your Florida Traffic Law and Substance Abuse certificate.
We will send you your certificate within one business day of when you complete the course.
If you like, you may contact us to select overnight delivery for an incremental fee.
Step 7. Submit your Florida Traffic Law and Substance Abuse certificate to the Florida DMV.
It is your responsibility to submit your certificate to the DMV before you can take the DMV Exam.

Questions?
Contact us and we will provide you with prompt and courteous service.
Florida Traffic Law and Substance
Abuse Classroom Locations
There are currently no classes available.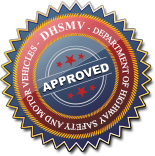 Online 4-Hour
Drug & Alcohol (TLSAE) Course
If you just want to 4-hour course required to get your Learner's Permit and want to wait until later to get the other stuff you need to get your Learner's Permit, it's not a problem. This is the course you need at the lowest price guaranteed.
Learn More
Get Your Permit Fast & Easy
Study When & Where You Want
Stop & Start When You Like