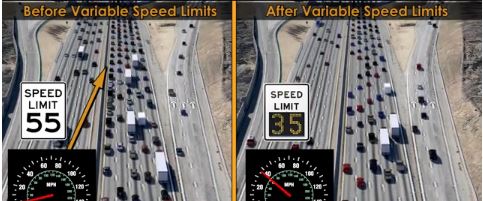 Getting There Faster By Going Slower On The Interstate
August 14, 2014
Slower speeds on the interstate might just get you home faster. At least that's what traffic engineers in Atlanta hope. In a new program that has already shown some success in Washington State, computer controlled variable speed limit signs are being added to the northern portion of I-285; otherwise known as the perimeter highway that circles the city of Atlanta.
Noted for its massive traffic jams, it's hoped that by slowing traffic down to as low as 35 mph when congestion builds up ahead, that the traffic will move more smoothly and logjams will be prevented. Slowing to a speed that low sounds bad but 35 mph is better than not moving at all and that's what Atlantans experience on a daily basis.
An informal poll however shows that Atlantans don't give the program much hope. In a city notorious for speeding and aggressive driving (listed as the second worst city in the US for road rage) respondents to the poll overwhelmingly felt that Atlantans won't pay any attention to the new speed limits and the congestion will continue. Read more: Will Going 35mph on the Perimeter Get You Anywhere Faster?