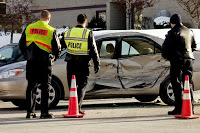 5 Things A Teen Driver Must Do To Handle A Crash
May 9, 2011
If you compare industrialized nations, some may say the US has a poor record of teaching young drivers how to drive. Instead of the requirement to be taught by professional driving instructors, American teens are taught to drive by their parents who, with few exceptions, are ill prepared to teach their teen how to drive. As a result, many teens are sent out on the road without the proper training or experience to handle a lot of the driving situations they will be faced with. Unfortunately, in the United States, that means that the chances of a teen becoming involved in a collision within the first year of driving are very high. Since the chances of a teen driver being involved in a motor vehicle collision are so high, teens should, at least, be prepared to deal with the aftermath of a crash.
Here's a brief checklist of what a teen driver must know, when involved in a crash:
Don't place blame, remain calm – This is much easier said than done given the emotions involved in a crash however, remaining calm can help defuse a potentially volatile situation. Tempers can flare after a crash and there is the potential for a "road rage" attack. Losing one's calm can't "un-crash" the vehicles so it is imperative that the teen remain as calm as possible. If the other driver becomes confrontational, stay in the car and wait for the police. There may be a temptation to run but the teen should be aware that he or she could be arrested for leaving the scene of a collision.
Check immediately for injuries to other drivers. Call Rescue, if necessary. – If anyone involved was hurt, the first priority is to call 911 for medical assistance. First aid should be applied to stop bleeding but, to prevent even greater injuries, an injured victim should never be moved unless there is a greater chance of further injury from fire or a secondary collision from oncoming traffic. Never give injured victims any water.
Emergency packs – Your car should be stocked with first-aid kits, emergency flares or reflectors, tools, and any other items that may help in case of a crash. Reflective triangles or flares placed at least 100 feet away from the crash will help to divert other traffic away from the crash site. If the collision occurred around a sharp curve or other obstruction, someone should be sent to wave down or otherwise warn oncoming traffic of the danger ahead.
If the vehicles can be moved, they should be moved off the roadway as quickly as possible. If the vehicles can't be moved, all victims who are capable of walking should be moved well off the roadway to a safe location to avoid secondary collisions.
License, insurance, and registration – Your teen should always know where the vehicle's registration and proof in insurance card are located. They should always be kept together in an envelope in the glove box. Most state laws require that drivers who are involved in a crash share their driver's license number, vehicle registration, proof of insurance, and current address with law enforcement officers and other persons involved.
In most states, if a collision results in more than $500 in damages either to vehicles, or public or private property, the police must be called. If the police are not called, a formal report must be made to local law enforcement within 24 hours.
Documentation – Nowadays, with cell phones, a camera is never far away. Take pictures of the crash site and any damages that may have occurred. Note and take pictures of conditions, such as weather, roadway hazards, or whether or not the sun's position may have blinded a driver, etc. Get the names and phone numbers of any witnesses. If the collision results in a court case, having as much documentation as possible will help.
A car crash is no time to panic or lose one's cool. Handle it properly and there will be fewer hassles, in the long run, for the teen driver.