How to teach your teen how to become a Safe Driver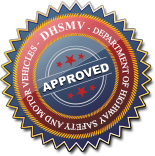 Regular Price $19.95
Special this month only

Instructional guide for concerned parents.
Complies with Florida's graduated licensing requirements.
Developed by Florida Driver Improvement Chief Instructors.
Includes the Parent-Teen Driving Contract Online Tool
Preview the Handbook Introduction for Free (PDF Download)
Now that your teen is about to learn to drive, it's important that you give him or her every opportunity to become a Safe Driver. The driving foundation that you provide them with today will carry them through the rest of their lives. But it's during these first few years that they are at highest risk to be involved in a fatal traffic crash. In fact, motor vehicle crashes are the leading cause of death for 15 to 20 year olds.
That's why the state of Florida recently passed a graduated licensing program requiring parents or guardians to certify that they (or an adult 21 years old or older) have accompanied their teen for a minimum of 50 hours (including 10 at night) before the teen can apply for a regular operators drivers license.
This Handbook was designed to be a teaching tool for parents who are concerned with their teen's driving safety and understand the value of quality instruction. It was developed by Driver Improvement Chief Instructors that have been certified by the Florida Department of Highway Safety and Motor Vehicles and provides a practical, step-by-step approach to instructing your teen how to become a Safe Driver through behavior, attitude, skills, and experience.
Included in the handbook are tools that you will use during and following each instructional session:
Checklist Instructional Guide;
All the items your teen will be tested on when they go to take the DMV driving test to get their regular license are covered (see the Regular Drivers License Checklist or the Learner's Permit Checklist) in the Handbook. Remember, the training your teen receives is only as good as the instructor providing the training. Prepare yourself with the Handbook and teach your teen how to drive safely!
Purchase the Handbook now and begin reading it immediately. The handbook can be downloaded as an Adobe PDF document which can be printed or viewed onscreen.