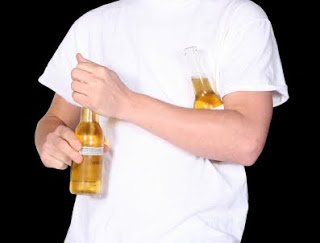 How to Deal with Underage Drinking: Tips for Parents
September 15, 2009
Restricting your teen's access to alcohol is one of the most important things you can do for them as a parent. There are highly-publicized risks of fatal alcohol poisonings and devastating motor vehicle crashes due to drinking and driving, for example. But there are other, less-publicized risks that could be equally destructive to your teen's health and well-being, such as increased risk of sexually transmitted diseases and unintended pregnancy, violence and rape, and suicide.
Of course, underage alcohol use has consequences other than legal ramifications:
Early alcohol use, independent of other risk factors, strongly predicts the development of alcohol dependence. Of all people who ever meet the diagnostic criteria for alcohol dependence in their lifetime, nearly half do so by age 21 and two-thirds by age 25.
Due to differences between the adult brain and the brain of the maturing adolescent, many young drinkers:

Are able to consume much larger amounts of alcohol than adults before experiencing the negative consequences of drinking, such as drowsiness, lack of coordination, and withdrawal/hangover effects.
Are particularly sensitive to the positive effects of drinking, such as feeling more at ease in social situations; young people may drink more than adults because of these positive social experiences (NIAAA, 2009).

Recent evidence suggests adolescent drinking can inflict permanent damage on the developing brain (National Research Council and Institute of Medicine, 2004).
To help your teen avoid the use of alcohol and its attendant problems, maintain an ongoing, open dialogue about underage drinking and the risks involved. Make sure she understands that underage drinking is never acceptable. The fact that she is at a party or it is a special occasion or that some parents might "look the other way" when their teenage children drink alcohol does not change the fact that underage drinking is illegal and very dangerous. If your teen is attending a party at a friend's house, make sure her friends' parents don't intend to provide alcohol; this is illegal in every state. You might be surprised to discover that other parents plan to provide their teens and their friends with alcohol in a "safe" manner and location. Make sure your teen understands that other adults can't give her permission to drink alcohol. An alternative is to talk to your teen about organizing a get-together at your own home.
If you and your teen decide to host a party, make a guest list with your teen. Limit the number of teens so you can be sure of adequate chaperonage. Be sure you have contact information on each teen's parent. Make sure guests and their parents understand that if a teen leaves the party, he won't be allowed to return and parents will be called. Make sure parents who won't be chaperoning know the start and end times of the party and will prearrange transportation. Collect all keys so you can keep track of who is arriving and leaving. Keep coats and purses in an area that can be monitored. Speak to each person before he leaves; check for warning signs of impairment. If a guest arrives at the party already under the influence of alcohol or other drugs, keep him there while you call a parent to pick him up. If he leaves and someone is hurt or injured, you could be held responsible.
When your teen spends the night at a friend's house or goes to a party, call the hosting parent to find out the details. Make sure the hosting parent shares your concerns about the availability of alcohol and that none will be permitted. Ask how much supervision will be provided. Volunteer to chaperone and provide transportation. Let your teen know that you will not approve any outing without sufficient notice so you can speak to the hosting parent first. If your teen will be riding anywhere, at any time, with a friend, make sure it is with someone whose parents do not permit the use of alcohol. Teens are at great risk when riding with other teens, even under the best of circumstances. Talk to your teen about a back-up plan in case something goes wrong.
When your teen is going out for a special event, have her make a record of the planned itinerary for the evening and make sure she agrees to inform you of any changes. Be alert to spontaneous changes in plans on the night of the event; your teen won't have as much control over the situation if it takes place in an unfamiliar location and/or with people she doesn't know well. In the excitement of the evening, she could end up in a risky situation before she realizes what is happening.
Create a code with your teen so he can signal for help without attracting the attention of friends. If you don't know how to text, ask your teen to give you a few lessons; texting is a much easier way for you to communicate than via phone. When you arrive to pick up your teen, he can blame you for having to leave or you can give the excuse of a "family emergency." Make an agreement that if you do have to pick him up, a discussion about the reason can be tabled until the next morning, when you and your teen are both calm and safe. Otherwise, your teen may avoid calling you for help because he doesn't want you to know about the circumstances that required the ride home.
And, last but certainly not least, realize that your teen is vulnerable to making poor choices every day. Don't let your guard down. Finding a balance between being too controlling and allowing too much freedom will require constant effort, but it is a worthwhile endeavor. Your teen's health and happiness may depend on it.