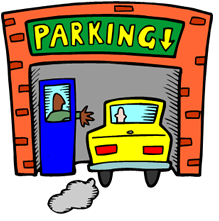 Parking Lot Safety
February 7, 2012
Finding a convenient and safe parking spot is as much a part of operating a vehicle as driving itself. Depending on the kind of parking situation, it can be as safe as being the only vehicle in that spot, or it might even prove to be more dangerous than the road itself.
Not all parking lots are created equal, even the parking spots don't come in one flavor, hence the need for some parking lot safety tips.
Some parking spots may be a spot on the side of the road, or somewhere above a multi-tiered structure. Some spots may be straight-in, diagonal and some may not even have guiding arrows to help you. Paying attention plays a huge part in making sure you pick a perfect place to park.
Here are some of the necessary precautions when finding the perfect parking spot:
Are the doors locked? Are the windows rolled up? Even if you're leaving for a couple of minutes, you should always do this.
As much as possible, don't leave valuables in the car. Make it a habit: if you have the detachable type of GPS or radio, always bring it with you. GPS devices may make life easier, but if stolen, it gives thieves a treasure map to your house.
Check your phone/plug in your earphones/do errands when you're inside where you need to be. Your full attention is required in getting out of your car to getting to the destination.
Is there parking security? If there's an available spot within the view of security, park there. Not all parking lots are secure.
Be wary of strangers loitering about the parking lot. The car may be parked, but they may be after you. Notify security if there's anything out of the ordinary.
When your errands are complete, there are other precautions to be taken:
Have your keys ready. Fumbling about and digging inside your purse or pocket for the keys in front of your car leaves you vulnerable.
Always remember where you parked your vehicle.
Scan the area around your vehicle. Be aware if someone may be following you.
Check in and around your vehicle. Someone may be hiding behind your car, in front or in the back seat.
Once safely in your vehicle, lock up and leave.
When backing out of a space, be aware of people or vehicles moving in front or behind your vehicle. Be aware that visibility may be limited when there are bigger vehicles parked next to you. Never put yourself at risk. A parking lot is just a place where you park, not to hang out in.
Additional Tips for Vehicle Theft Prevention from Department of Transportation's (DOT) National Highway Traffic Safety Administration (NHTSA).