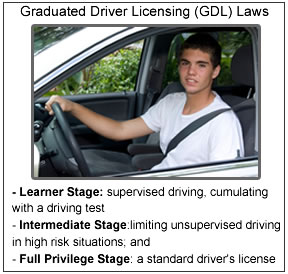 Teens Most Likely To Crash In Their First Month Of Solo Driving
August 16, 2012
A study conducted by the AAA Foundation for Traffic Safety found that teen drivers are fifty percent more likely to crash in their first month of solo driving than they are after a year of driving experience on their own.
The researchers used in-car cameras to follow new North Carolina drivers during the last six months of instruction with their parents in the car and their first six months driving alone. The research showed that, in the first month of solo driving almost sixty percent of the crashes were caused by:
They also found that certain types of crashes or near crashes occurred at relatively high rates at first and then declined as the driver gained more experience; for example,
crashes involving left hand turns
that quickly diminished reflecting the teen's inexperience followed by rapid learning. The study pointed out driving abilities that parents need to place more emphasis on and to provide more instruction to their teens.
Some of the videos are quite revealing about the teens' attitude toward some of the mistakes they made. The study also shows the importance of
Graduated Drivers Licensing Laws (GDL)
in reducing teen deaths on the highway. If you are unfamiliar with your state's GDL laws, you should visit your state's DMV website or get a copy of your state's
driving manual
. If the GDL laws in your state are not as strong as in other states, you can enforce your own GDL laws on your teen. Studies show that parental involvement in a teen's driving goes a long way toward preventing crashes.