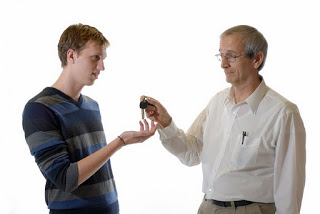 Ten Tips for New Drivers Before and After Getting Licensed
February 12, 2009
Tips for Before you Get Your Drivers License:
1. Learn the material in your driver handbook, not just so you can pass the test, but so you can carry the information into your driving behavior.
2. Memorize the graduated licensing laws in your state. Not only must you follow them, but you shouldn't ride with anyone who isn't following them.
3. Talk to your parents about their expectations and the rules you'll have to follow to use the family car or get your own vehicle. The time to refine the rules is now, before you have your license.
4. Encourage your parents to let you practice driving in unfamiliar areas, at night, when it's raining, and on expressways, not just on familiar streets close to home during daylight.
5. Learn to scan the driving scene ahead so you can anticipate problems and react in time. Ninety percent of driving decisions are based on what you see.
Tips for After you Get Your Drivers License:
6. Sign a driving contract with your parents, specifying driving rules and curfews. Incorporate your state's graduated licensing laws into the contract. The contract should include an agreement for your parents to pick you up, no questions asked until the next day, should you be unable to drive or ride with someone else for any reason.
7. Ask your parents to let you continue practice-driving occasionally; every new driver can use the extra training.
8. Minimize distractions in your vehicle. Keep the radio volume low, put your cell phone away, and ask passengers to minimize conversation. Wear your safety belt and make sure all your passengers wear theirs.
9. NEVER use driving as a stress-reliever. Drivers who do this often speed or get distracted. Learn to manage stress in healthy ways – by taking a walk, taking a nap, talking to a friend, or volunteering.
10. Read the warning labels on any medicines, including over-the-counter (those that don't require a prescription); many medications cause sleepiness or dizziness and shouldn't be taken while driving. Read our most recent post on Teen Drivers and Prescription Drugs.
And of course, NEVER drink and drive.