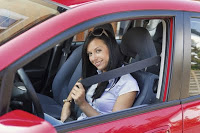 Unbelted Teen Killed in Crash
August 3, 2006
Missouri teen Charles "Charlie" J. Glik, 16, was driving at about 3 a.m. when his car left the roadway and struck a utility pole, police said. The impact snapped the pole in half, and Charlie, who was not wearing his seat belt, died at the scene..
Source: stltoday.com
Safe Driving Lesson Learned
In 28 of the states with belt use laws in 2004, the law specified secondary enforcement. That is, police officers are permitted to write a citation only after a vehicle is stopped for some other traffic infraction.
As of December 2004, 49 states and the District of Columbia had belt use laws in effect. The laws differ from state to state, according to the type and age of the vehicle, occupant seating position, etc.
Research has found that lap/shoulder safety belts, when used, reduce the risk of fatal injury to frontseat passenger car occupants by 45 percent and the risk of moderate-to-critical injury by 50 percent. For light truck occupants, safety belts reduce the risk of fatal injury by 60 percent and moderate-tocritical injury by 65 percent.
Among passenger vehicle occupants over 4 years old, safety belts saved an estimated 15,434 lives in 2004.
Wear your safety belt and shoulder harness properly. In a crash, you are far more likely to be killed if you are not wearing a safety belt. Wearing shoulder belts and lap belts make your chances of living through a crash twice as good.
Airbags, combined with lap/shoulder safety belts, offer the most effective safety protection available today for passenger vehicle occupants. Research indicates an overall fatality-reducing effectiveness for airbags of 11 percent when a safety belt is used in conjunction with the airbag. In 2004, an estimated 2,647 lives were saved by airbags.
This post is an excerpt from a recent edition of the Safe Driving Teen Monthly Bulletin. Each month the National Safety Commission publishes the bulletin for teens and parents designed to improve teen driver behavior, attitude, skills, and experience. Subscription Details