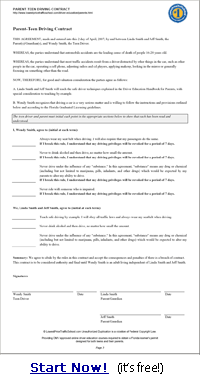 How to Use a Teen Driving Contract
April 27, 2009
Teaching your teen to drive safely is one of your most important responsibilities as a parent, and training shouldn't end when your teen gets a driver's license.
The early years of driving are a dangerous time for teens. Almost 40% of all deaths for 16- to 19-year-olds occur in motor vehicle crashes; drivers in this age group are four times more likely to be involved in a crash than older drivers.
Setting and enforcing limits on your teen's driving privileges will help keep your teen safe while reinforcing that driving is a serious matter. Be sure to set limits that comply with your state's Graduated Driver's Licensing laws. A Parent-Teen Driving Contract can help you ensure that your teen knows the rules in your household for getting and maintaining driving privileges and the penalties for breaking those rules.
Completing a Parent-Teen Driving Contract will be most effective if the concept and expectation are presented in advance (preferably at age 14). Make sure your teen understands that she or he will not be allowed to drive until an agreement is reached and both parties have signed the contract and initialed each term presented in it. Start a dialogue early about what the terms might include. Set aside at least thirty minutes to review the contract together before you and your teen sign it. Post the contract in a conspicuous place in your home so you and your teen can review it frequently.