Florida Court Ordered Course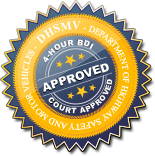 $5.94*
Register Now
With our State-Approved, online Florida Court Ordered Traffic School you can:
Fulfill your obligation to the court
Take your course from the convenience and privacy of home or work - No Classroom Necessary
Complete the course at your convenience - in your spare time
Online Traffic School Benefits
Complete the course at your convenience and pace
Simple to use, no computer experience needed
Unlimited log-ins and log-outs
Electronic completion certificate available
Free live customer service/assistance
About Lowest Price Traffic School Courses: Lowest Price Traffic School offers traffic school and defensive driving online courses that are authorized in ALL 67 Florida counties by the Florida Department of Highway Safety & Motor Vehicles. We provide the best value to our customers through our lowest price guarantee and most importantly, the highest quality driver education available in the industry.
Florida Court Ordered Traffic School FAQ
Do I have to take the course all at once?
No. Since you're taking this course online in the privacy and comfort of your home or office, you can break it up and complete it at your convenience. With unlimited log-ins, the choice is yours!
How long is the 4-Hour Traffic School course?
The course is 4 hours long, including breaks and you may take the course in sections or all at once.
Do I have to start right now?
It's up to you. Start the class immediately after signing up or sign up now and start later!
When will I get my Traffic School Certificate?
Your certificate of completion will be processed after you complete the course online and you will have the choice to receive it by regular mail or upgrade to email.