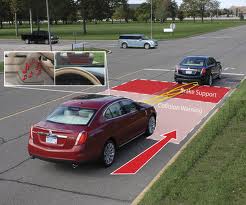 Automatic Emergency Braking To Become Standard On Most Vehicles
October 5, 2015
Ten automobile manufacturers have committed to making automatic emergency braking (AEB)  standard equipment in all cars manufactured for the US and Canadian market according to a joint announcement by the National Highway Traffic Safety Administration (NHTSA), the US Department of Transportation (DOT), and the Insurance Institute for Highway Safety (IIHS).
Automatic emergency braking uses sensors such as lasers, cameras, radar, or sonar to detect an imminent crash. The system gives the driver a warning and, if the driver doesn't take action in time, the system will automatically apply braking to avoid the crash. An IIHS study reported that the technology could reduce insurance injury claims by as much as 35 percent.
The system has been offered by several manufacturers over the past several years but only as an option on their high end models. The ten manufacturers who agreed to make the system standard equipment on all models are; Audi, BMW, Ford, General Motors, Mazda, Mercedes-Benz, Tesla, Toyota, Volkswagen and Volvo. Those manufacturers represent 57 percent of the light duty model vehicles produced in the US each year. The automakers have agreed to work with NHTSA and IIHS over the next few months to agree on the details and a start date for implementation of the program.
The act of voluntarily agreeing to make new safety technology standard equipment is unprecedented in the auto industry. Normally, NHTSA suggests standardization of a system and, with the automakers kicking and screaming the whole way, congress then has to pass a law making it required equipment. Two things are happening to change the way things are done between the federal government and the auto industry.
In 2013, IIHS added automatic braking systems to the requirements for a vehicle to earn the  designation as a "Top Safety Pick +" in its annual list of safest cars. In January of this year, NHTSA announced that it was adding automatic emergency braking to its "wish list" of required safety equipment on new cars.
By voluntarily agreeing to add automatic emergency braking to their list of standard equipment, the automakers avoid the hassles of dealing with government regulators and remain in charge of the process. Also, as more and more buyers look at the IIHS safety ratings as part of the decision process when selecting a new car, adding automatic emergency braking will also help them get the highly coveted "Top Safety +" designation.
Read more:  U.S. DOT and IIHS announce historic commitment from 10 automakers to include automatic emergency braking on all new vehicles