Search results for "Automatic Braking On NHTSA Wish List"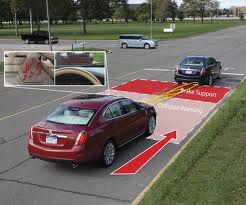 Automatic braking systems are being recommended by the National Highway Transportation Safety Administration (NHTSA) for new cars under its New Car Assessment Program. The  announcement of this recommendation was made by U.S. Transportation Secretary Anthony Foxx on January 22.
NHTSA is recommending two different types of automatic braking systems that go beyond crash avoidance systems, currently available in some car models, that only warn the driver of an imminent crash. The systems that  NHTSA recommends including in all new cars are known as Crash Imminent Braking (CIB) and Dynamic Brake Support (DBS).
If the driver has not already applied the brakes the CIB system automatically applies the brakes if the vehicle detects that a crash is imminent. The DBS system takes over and applies more braking force if it detects that the driver is not applying enough force to stop in time.
According to Foxx's announcement, approximately one-third of collisions in 2013 were rear-end collisions with another vehicle. The evidence showed that many drivers in those crashes either didn't apply the brakes at all or didn't apply enough braking force to avoid the crash. It's hoped that these two braking systems can help avoid those crashes.
The automatic braking systems being recommended by NHTSA aren't new technology, they already exist in some higher end model vehicles. In 2013, the Insurance Institute for Highway Safety (IIHS) added automatic braking systems to the requirements for a vehicle to earn the  designation as a "Top Safety Pick +" in its annual list of safest cars. Auto manufacturers are adding them to more and more vehicles in order to earn the top safety plus designation. IIHS announced that, for the 2015 model year, a record 33 vehicle models won the top safety pick plus designation.
It's unclear, as of now, if the NHTSA recommendations will become mandatory for new vehicles in the near future.
Read more: Transportation Secretary Foxx Announces Plan to Add Two Automatic Emergency Braking Systems to Recommended Vehicle Advanced Technology Features