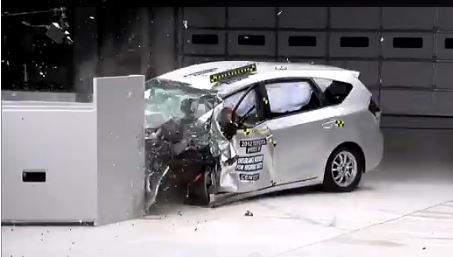 More Cars Earn Top Safety Rating In 2015
January 8, 2015
The top safety rating given by the Insurance Institute for Highway Safety (IIHS) was earned by even more cars in the 2015 model year than were awarded in the 2014 model year.  While more vehicles went on to win the top safety later in the year, by this time last year, only 39 vehicles had won the rating compared to 71 this year.
The top safety rating was won by more cars in spite of the fact that the IIHS increased the testing criteria in 2012, requiring the small overlap crash test in addition to the front end and side crash tests. The small overlap test crash tests duplicates common crashes where a smaller portion of the front end strikes an object such as a bridge abutment or light pole. After the introduction of the small overlap tests, initially, fewer cars were able to pass the test because manufacturers had designed car frames to absorb the impact of a full front end collision but not necessarily a crash on the front side. Designers had to go back and strengthen the side of the frame and the front door pillar to better protect the occupant space.
According to the IIHS, in order to win the top safety rating, "a vehicle must earn good ratings in the moderate overlap front, side, roof strength and head restraint tests, as well as a good or acceptable rating in the small overlap front test."
In addition to the top safety rating, vehicles may also earn a top safety (+) rating if they score "a basic, advanced or superior rating for front crash prevention." Front crash prevention includes passive systems that use sonar or cameras to warn a driver of a possible crash situation ahead or active systems that actually apply the brakes to avoid a possible crash.
For 2015, 33 vehicles were awarded the top safety + rating if the manufacturer offered the front crash prevention system as an option. Four models (all Volvos) included the front crash prevention system as standard equipment.
To see which vehicles earned the top safety rating, read: 2015 Top Safety Picks
Photo courtesy: IIHS