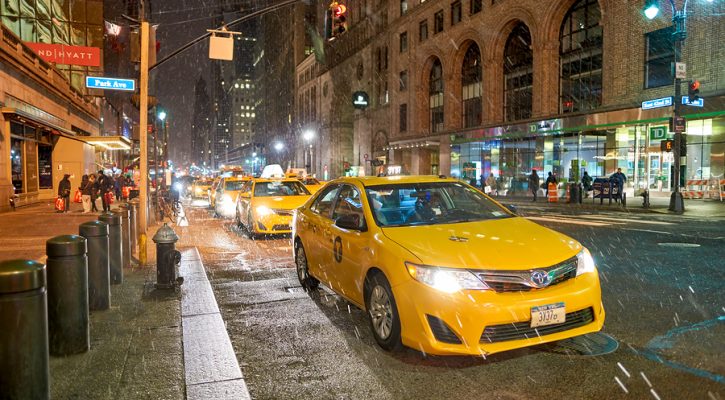 Free Safe Ride Cabs Offered On New Year's Eve
December 28, 2016
The year 2016 will ring out on Saturday, December 31 and, to make sure you live to see 2017, a lot of organizations throughout the country are offering safe ride programs with free cab rides or free tows for those who have had too much to drink.
In Jacksonville, FL, the legal firm of Farah & Farah is once again offering free cab rides for those who have had too much to drink. To take advantage of the offer, call (904) 396-5555 on New Year's Eve or visit: keepjaxsafe.org.
In the Washington DC area, free cab rides are being offered by the Washington Regional Alcohol Program (WRAP). The "Sober Ride" program covers DC and most local cities and counties in the VA, MD, and DC area. The cab rides are free for trips up to $30 and the rider is responsible for any fares over that amount. To call a cab, don't call the cab company,  but, instead, contact the Sober Ride program (1-800-200-8294) and place your request with the operator, who will place your request with the corresponding cab service. AT&T customers can simply dial #WRAP from their cellphones.
The American Automobile Association (AAA) is offering free and discounted rides and tows throughout the country. For a list of AAA clubs that are participating, visit: Holiday Safe Ride Program
For a state-by-state list of other organizations that offer safe ride programs visit DUI Justice Link-Sober Ride
These are just a few of the holiday free and discounted ride programs. For safe ride programs in your area, Google "holiday safe ride" or "NYE sober ride". You can also check with your local newspaper or TV stations.
If no sober ride program is available in your area, remember to use a designated driver or make other plans to get home safely before you go out drinking. If there aren't any free cab ride programs in your area, consider the cost of a cab as part of the cost of your New Year's Eve celebration. A cab ride is much cheaper than the cost of a hospital stay or funeral.
Have a safe and happy New Year!