Driver Distractions Contribute To 60 Percent Of Teen Crashes
March 26, 2015
Driver distractions are a factor in almost 60 percent of teen crashes according to a new report by the AAA Foundation for Traffic Safety. To gather the data for this study, researchers viewed dash cam footage from teen drivers age 16 to 19 who participated in the study. From this data, the researchers were able to view the actions of the teen drivers in the final seconds leading up to a total of 1,691 teen crashes that occurred between August 2007 and July 2013.
The data showed that driver distractions were a factor in 58 percent of the teen crashes. The AAA infographic below shows the most common types of distracting behavior leading to a crash. (Click on graphic to enlarge)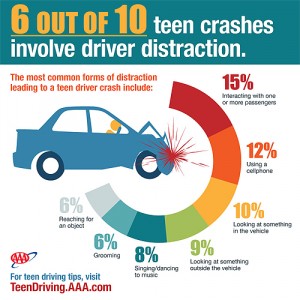 Cell phones and other teens aren't the only types of driver distractions. A recent study from Oregon State University found that twenty-seven percent of teens admitted to changing clothes and shoes while driving. They also reported changing contact lenses, putting on makeup, and doing homework behind the wheel.
As expected, use of cell phones was a major factor in the AAA study and the researchers feel that the involvement of cell phones occurs more often than government statistics show. In the crashes where cell phone use was a factor:
Drivers operating or looking at cell phones looked away from the forward roadway excessively – spent an average of 4.1 seconds out of final 6 seconds before the crash looking away.
 The driver exhibited no reaction at all before impact in over half of rear-end crashes involving cell phone use.
In a previous article, we reported that speed and driver distractions were the most common cause of teen crashes. According to the AAA study, excessive speed was a factor in 79 percent of the single vehicle crashes. When excessive speed and driver distraction are combined, the results can be deadly.
Read more: Fact Sheet – Environmental Factors and Driver Behaviors in Teen Driver Crashes