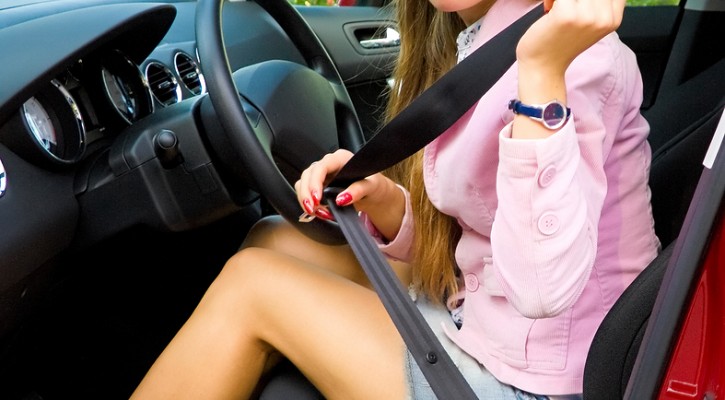 Five Worst Teen Driving Mistakes: Part One
December 11, 2008
Most parents live in dread of the day their teens get driver's licenses and get behind the wheel on their own. Their concerns are well-founded, since teen drivers have the highest death rates in car crashes of any age group. Motor vehicle crashes are the number one cause of death among Americans aged 15-20. But parents can help their teens be a safer driver even after they are licensed, particularly by paying attention to common risk factors. In this five-part series, we'll discuss the five worst teen driving mistakes:
In this, part one of the series, we'll emphasize the importance of wearing safety belts. First, you'll need to set the right example for your children by wearing your safety belt. "Do as I stay, not as I do," doesn't work with teens, particularly when they're out of your sight and you can't personally enforce the rule.
Also, make sure you never pull out of your driveway or a parking space until everyone in the vehicle is wearing a seat belt. Many high school students fail to use their safety belts even when riding with adults who are buckled up. An observational survey conducted at 12 high schools found that 46 percent of high school students were not wearing their safety belts when riding with adult drivers. About half of the unbelted students were riding with adults who were belted. If your teens are used to wearing safety belts as passengers, they'll be comfortable wearing them as drivers.
Next, educate your teen about the benefits of wearing safety belts. Here's some supportive information:
Research has found that lap/shoulder safety belts, when used, reduce the risk of fatal injury to front-seat passenger car occupants by 45 percent and the risk of moderate-to-critical injury by 50 percent. For light truck occupants, safety belts reduce the risk of fatal injury by 60 percent and moderate-to-critical injury by 65 percent.
Ejection from the vehicle is one of the most injurious events that can happen to a person in a crash. In fatal crashes in 2005, 75% of passenger car occupants who were totally ejected from the vehicle were killed. Safety belts are effective in preventing total ejections. Only 1% of the occupants reported to have been using restraints were totally ejected, compared with 30% of the unrestrained occupants.
Safety belts should always be worn, even when riding in vehicles equipped with air bags. Air bags are designed to work with safety belts, not alone. Air bags, when not used with safety belts, have a fatality-reducing effectiveness rate of only 12 percent.
Third, educate your teen about the safety belt laws in your state. Be sure to review the graduated licensing laws – safety belt enforcement may differ from that of fully licensed drivers.
Statistical source: National Highway Traffic Safety Administration