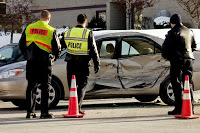 Teens learn to drive by experience. However, many of the things that happen behind the wheel cannot be prepared for under normal circumstances. Reactions to blown tires, icy roads, and collisions are a few of the things that teen drivers do not know how control. Enter CAT Training.
CAT Training, otherwise known as Collision Avoidance Training, is offered many places nationwide. No place is it more needed, however, than at a local sports complex in D'Iberville, Mississippi. In this state, teens are allowed to be licensed at age 15, and without passing a driver's education course no less. With the deaths of 26 young people in recent years, the time felt right to bring in such a program as CAT Training.
Here, in Harrison County, CAT training was given a trial run, and will soon be offered to the public for a nominal fee. The testing group included four school resource officers who will become the course teachers. Students selected by the officers also tested the course, which is said to provide experience that normally takes five to seven years of driving experience to gain.
This program is the first of its' kind in Mississippi, and was made possible by the Partners for Highway Safety Foundation. After their son died at age 17 in an auto vehicle crash on Mother's Day weekend 1992, Paul and Ann Burris created the Partners for Highway Safety Foundation in an effort to educate teen drivers of the dangers of risky driving.
National studies show that more than 70% of crashes that involve teen drivers or passengers are avoidable. Inexperience is listed as a factor more important than the abuse of drugs or alcohol in this statistic.
Future dates that the course will be held, as well as costs to attend, have not yet been determined. However, students interested can contact Harrison County officials for information, and they will be notified as soon as the course is open to the general public.