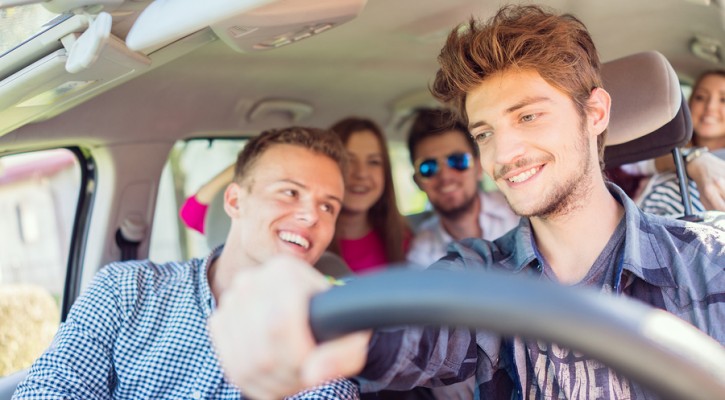 Passengers Affect Teen Safe Driving Attitude
February 24, 2015
Teen passengers can have a big affect on a teen driver's safe driving attitude according to a recent study published in the journal Health Psychology. According to the research, a teen passenger's personal attitudes about risky driving habits can influence the teen driver to engage in risky driving behaviors.
It has long been known that, the more teen passengers there are in a teen driver's car, the greater the risk of a crash. According to a 2012 study by the AAA Foundation For Traffic Safety, a teen driver's risk of involvement in a deadly crash increases by 44 percent with one teen passenger in the vehicle. The risk doubles with two teen passengers and quadruples with three or more passengers.
According to the new study, a teen driver is more willing to engage in risky driving behaviors if he (this is especially true for male teens) perceives that his passengers approve of those risky behaviors. The passengers don't have to specifically tell the driver to take risks but can give subtle clues of their approval.
To find out why this was so, the researchers studied 66 teen drivers in a simulated driving situation. The teens were told that they were being paired up for the simulation with another randomly selected teen (actually a young looking research assistant). The research assistants played two different rolls. Upon first meeting one assistant would arrive late and say "Sorry I was a little late getting here. Normally I drive way faster, but I hit like every red light." The other research assistant would tell his teen partner "Sorry I was a little late getting here. I tend to drive slowly, plus I hit every yellow light."
The teen was then asked if his partner could try out the simulator first "just for fun". The research assistant who said he tended to drive fast would then "drive" the simulator without using a seat belt and in an aggressive manner. The assistant who said he typically drove slowly obeyed the traffic rules and drove as safely as he could.
The research subjects were then given the opportunity to drive the simulated course alone and then with their partner as a passenger. Their driving behavior was measured by tracking whether or not the subject failed to stop for red lights and how much time was spent in the intersection after the light turned red.
All the research subjects tended to take more risks when they had a passenger with them but those with the aggressive driving partner took far more risks that those with the risk-averse partner. Even though they had just met their passenger and the passenger didn't pressure the teen drivers in any way, the teen drivers tended to adopt the risky or safe driving attitude of their passengers.
According to research by the Children's Hospital of Philadelphia, only 10 percent of teens correctly view passengers as potentially hazardous. Teen peer pressure can be overt or it can be subtle. Teens who ride as passengers in another teen's vehicle should be taught that it's OK to tell the driver to stop his or her risky behavior. Both teen drivers and teen passengers need to be taught that the actions of passengers can be distracting to the teen driver and taught to modify their behavior accordingly.