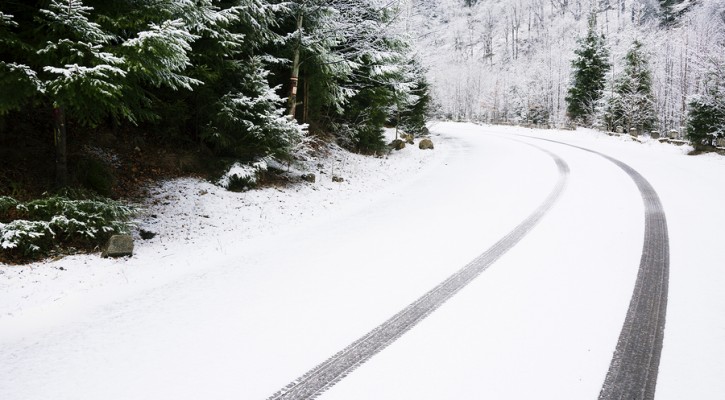 First Snow Of The Year
October 31, 2014
Oddly enough, the first snow of the year is forecast for this Halloween weekend throughout the mountain areas of the Southeastern US. Weather forecasts call for the possibility of as much as eight to twelve inches in the higher elevations along the Tennessee/North Carolina border and one to three inches in Asheville NC.
Forecasters call for rain in these regions that will turn to snow as the temperatures start to fall. Hopefully, these areas won't experience the crippling driving conditions that Atlanta experienced last January.
You may remember the headlines from earlier this year when hundreds of thousands of drivers in Atlanta were released from work and hit the road at the same time. Many never made it home and vehicles were left abandoned on Atlanta roads for days afterwards. A lot of people up north gave Atlanta residents a hard time for their inability to deal with what seemed to be only a couple of inches of snow but they didn't get the whole picture.
That morning in Atlanta, as the snow began to fall, the roadways were still relatively warm causing the snow to melt as it hit the roadways. As temperatures started to plunge, that layer of melted snow turned to a sheet of ice that was later covered with a layer of snow. It was the solid sheet of ice that caused the problems, not the snow!
After Denver and Phoenix, Atlanta, located in the foothills of the Appalachian Mountains at over 1,000 feet, is the third highest major city in the US. Metro Atlanta's topography consists of high hills and deep ravines and, when any one of Metro Atlanta's 5.5 million residents pull out of their driveway, they will be headed either up or downhill.
It wasn't the snow that caused the problems in Atlanta but hundreds of thousands of vehicles trying to make it up and down those high, ice coated hills. It was a nightmare that few cities in a similar situation would be able to cope with.
Drivers who aren't used to driving in snow need to use extreme caution if they attempt to go out in the snow this weekend. Most driver manuals in states that have a lot of snow and ice offer these driving rules for coping with wintry driving conditions. When driving on:
Wet roads: Slow down 5 to 10 mph.
Packed snow: Slow down to half speed.
Ice: Slow to a crawl.
In addition to watching your speed, you should at least double the following distance between you and the vehicle ahead.
Know what type of brakes you have. If you have standard brakes, don't slam on your brakes when driving on snow or ice; instead, lightly pump your brakes to slow the vehicle. If you have anti-lock brakes, apply firm pressure to the brake pedal.
If you start to skid, turn your wheel in the direction of the skid and don't concentrate on looking at the hazards to the sides. Keep your eyes on where you want the vehicle to go and make steering adjustments to steer in that direction.
Be aware that snow tires don't work well on ice.
This is a perfect training opportunity for your teen driver but you should limit their driving to no further than the end of the street at very low speeds. It should be quite an eye opening experience for your teen. Be prepared however for the possibility that your teen may take out a mailbox or two. It's far better for your teen to learn under controlled conditions like this than to experience it for the first time on their own after they get their operator's license.