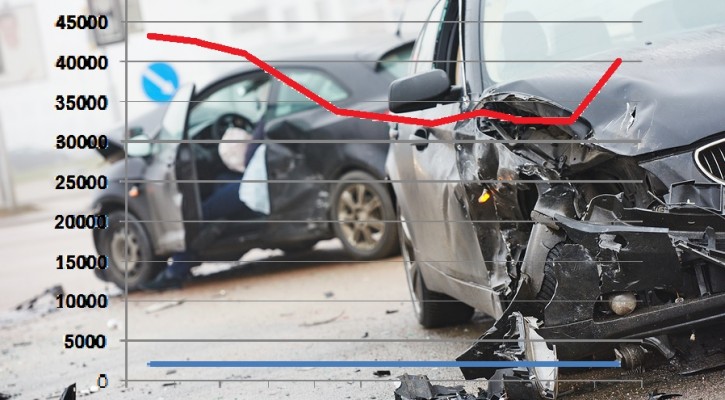 Motor Vehicle Deaths Are On The Rise
August 18, 2015
A new report by the Statistics Department of the National Safety Council shows that motor vehicle deaths are on the rise and the numbers have increased significantly over the past year. The report covers the first six months of 2015 and shows a fatality increase of 14 percent over the same period in 2014.
According to the report, there were 18,630 motor vehicle deaths in the US between January and June of this year. The report's authors say that, if the trend continues for the rest of the year, the total number of motor vehicle deaths could exceed 40,000 for the first time in eight years.
We normally quote traffic figures from the National Highway Traffic Safety Administration (NHTSA) and the figures between the National Safety Council and NHTSA will differ because NHTSA only counts traffic deaths that occur within 30 days of the crash while the National Safety Council counts both traffic and non-traffic deaths that occur within one year of the crash. Another difference is that NHTSA normally takes more than a year to compile and publish its data so there won't be any data for 2015 for some time to come. However, early 2014 figures published by NHTSA in January show a possible trend to support the National Safety Council figures.
According to NHTSA data, the rate of motor vehicle deaths in 2014, statistically, showed no real change from the 2013 death rate. While there were 44 fewer deaths in 2014 than in 2013, that only represented a change of 0.1%. The death rate for the first three quarters of 2014 showed a small decline but the last quarter of 2014 showed an increase of five percent over the same quarter in 2013.
The National Safety Council researchers feel that the increase in motor vehicle deaths are likely tied to lower gas prices and the growing economy. In 2008, when the economy started to crash, motor vehicle deaths fell by ten percent over the previous year, according to NHTSA figures. After a high of 43,443 motor vehicle deaths in 2005, the death rate fell to a low of 32,367 deaths in 2011 at the height of the recession; a difference of 34 percent.
Many traffic safety experts have warned that one indicator of a strengthening economy would be an increase in motor vehicle deaths. The improved economy along with low gas prices mean more people are on the road both for work and for pleasure.
One saving grace in all of this data is that newer cars are much safer and, while the number of crashes and injuries may go up, the number of deaths should be much lower than they might otherwise be.
Read more: Motor-vehicle deaths up 14 % in first six months of 2015