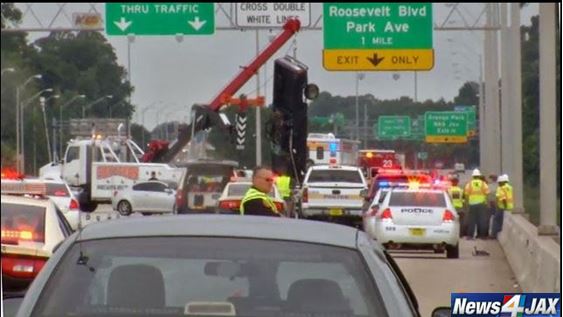 Rubbernecking Leads To Highway Death
July 17, 2014
A horrendous crash in Jacksonville Florida  this week points out the dangers of "rubbernecking" by drivers who aren't watching the road and maintaining a safe distance from the vehicle ahead.
The Buckman bridge in Jacksonville is a three mile long span crossing the St. Johns River. The bridge is actually made up of two separate, four lane spans, about 30 to 40 feet apart from each other. Yesterday, in morning rush hour traffic, a traffic collision involving a semi occurred on the southbound span. Rubberneckers on the northbound span slowed to look and that is when the real trouble began.
According to a spokesman from the Florida Highway Patrol, as traffic on the northbound span slowed, the driver of a Toyota scion swerved into the next lane to avoid hitting the vehicle ahead. As he did so, the front of his vehicle clipped the rear of a pickup truck sending them both into a spin. The force of the pickup truck's spin was so great that it flipped over the side railing of the bridge and crashed into the river. After a search of several hours by police, fire, and Fish and Wildlife boats along with helicopters from the Navy and Coast Guard, police divers finally found the driver's body in about twelve feet of water.
Rubberneckers slowing to look at a crash on the road increase the chance of a secondary collision because people are looking at the crash and not at the road ahead. We all have a natural curiosity but incidents like this are when it's most important to watch the road ahead and look for secondary hazards. This is also why it's so dangerous for police and fire rescue workers who work the scene of a crash and why obeying the Move Over Law is so important. Read more: Police divers find body in river after crash