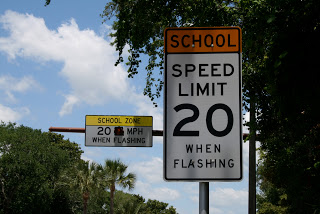 School Zone Safety
October 4, 2012
The next time you're driving through a school zone, put yourself in the shoes of the students getting on or off the bus and crossing the streets and you'll know it is a highly unpredictable driving situation. You'll see extra heavy traffic of parents picking up their kids and the students crossing the street on foot and on their bicycles.  After you take in the scene of the organized chaos, you'll understand why school zone speed limits are strictly enforced.
Here are a few school zone safety tips and all drivers to keep in mind:
Why is it so difficult for children to see motorists? Because their peripheral vision is about one-third narrower than an adult's, children can't see a motorist approaching from the right or left as soon as an adult can.
Children also have difficulty judging a car's speed and distance. They often think that if they can see the driver, the driver can see them.
Drivers should observe speed limits at all times, but especially around children. You were taught during driver education class to always expect children to dart out in the roadway or be unpredictable. So, the next time you're out expect the unexpected when driving in school zones, near playgrounds, or in neighborhoods where children might be playing and SLOW DOWN.
Always yield to pedestrians. When turning left at a green light or making a right turn on red, drivers need to look for pedestrians as well as cars. Pedestrians always have the right of way in these situations.
When a school bus stops you must stop. Never pass a school bus that is loading or unloading children. Passing a stopped school bus is a four point infraction and is very dangerous.
Around most schools the speed limit is either 15 or 20 mph. Special speed limit signs are posted around schools to alert one as they enter the zone. These signs have flashing lights to tell you when the lower speed limit is in effect. There is also a sign to indicate when you have left the school zone.