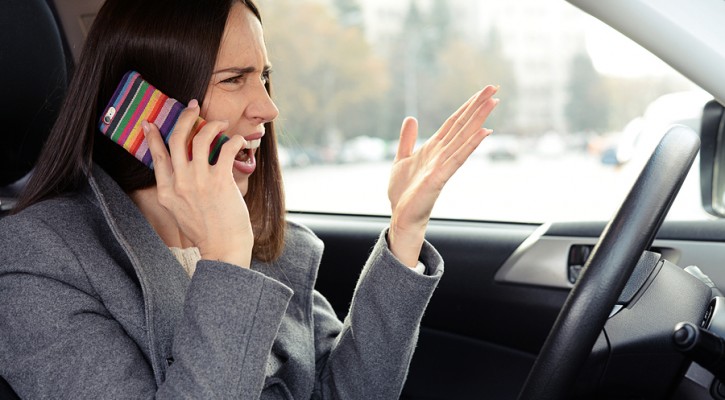 Strong Emotions Increase Crash Rate Tenfold
February 26, 2016
In 2006, the Virginia Tech Transportation Institute (VTTI) along with the National Highway Traffic Safety Administration (NHTSA) conducted a natural driving behavior study by outfitting 100 cars with sensors and cameras that observed both the driver and events outside the vehicle.  Recently, VTTI added to that original study by conducting the largest study of its kind. In the latest study, VTTI followed more than 3,500 participants across six points in the US. The results showed that driver emotions are just as, if not more dangerous than driver distractions.
In the first study, the subject vehicles logged nearly two million miles and were involved in 761 near crashes and 82 actual crashes. The results showed that almost 80 percent of motor vehicle crashes and 65% of near crashes involve driver inattention within three seconds before the event.
In the second study, VTTI again outfitted driver's personal vehicles with unobtrusive instrumentation, including a suite of cameras, sensors, and radar. The instruments continuously recorded real-world driver performance and behavior, from the time the drivers turned on the ignition to the time they turned the engine off. The drivers participated between one and two years each and accumulated more than 35 million miles of observable data.
Unlike the first study that looked at events and driver behaviors that led to both near and actual crashes, the second study only collected data on 1,600 actual crashes ranging in severity from low, such as striking the curb, to severe, police-reportable crashes.
Driving experts have known for years that driver emotions and attitude have the greatest impact on driving safety. This study was able to see that relationship in greater detail. According to the researchers, "drivers increase their crash risk nearly tenfold when they get behind the wheel while observably angry, sad, crying, or emotionally agitated."
Where distracted driving is concerned, the researchers found that:
Drivers engage in some type of distracting activity more than 50 percent of the time they are driving.
Crash rates are doubled when drivers engage in distracting activities that require them to take their eyes off the road, such as using a handheld cell phone, reading or writing, or using touchscreen menus on a vehicle instrument panel.
It all comes down to basics; drive the car instead of letting your emotions drive you and avoid distracting behaviors at all costs.
To learn more read: Researchers determine driver risks using large-scale, crash-only naturalistic database