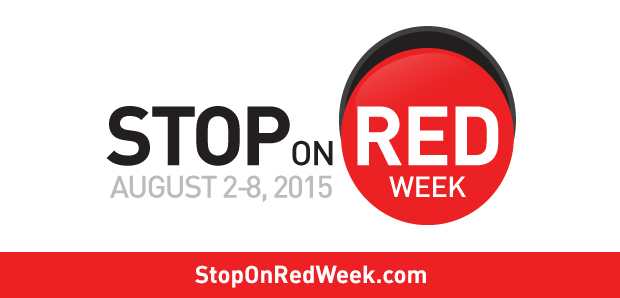 Time To Stop Red Light Running
August 5, 2015
August 2 – 8 is Stop On Red week and it's a good time to stop and think about the costs of red light running. The summer vacation period is drawing to a close, Labor Day is around the corner and within the next couple of weeks, children will be returning to school. It's time to evaluate if the time saved running a red light is worth the cost.
According to the Insurance Institute for Highway Safety (IIHS) 697 people were killed and an estimated 127,000 were injured in red light running crashes in 2013. About half of the deaths in those crashes were pedestrians, cyclists, and occupants of other vehicles that were hit by red light runners.
An IIHS study of urban crashes showed that the most common type of urban crash (22 percent) involved drivers who ran red lights, stop signs or other traffic controls. Injuries occurred in 39 percent of the crashes caused by red light runners. Drivers are more likely to be injured in a red light running crash than in any other type of urban crash.
Red light running has become an epidemic in the US. An IIHS study of 19 intersections without red light cameras in four states showed that drivers run red lights an average of 3.2 times per hour.
The National Coalition for Safer Roads (NCSR) conducted a study of red light running in the US and produced a list of the ten most dangerous cities for red light running. Those cities are:
Houston, TX
Phoenix, AZ
Los Angeles, CA
Las Vegas, NV
Chicago, IL
Miami, FL
Dallas, TX
Philadelphia, PA
Tucson, AZ
Denver, CO
If you want to know how bad the red light running problem is in your area, the NCSR has produced an interactive map that shows all the red light running deaths in the US between 2004 and 2013. You can choose a city to view or you can zoom in to your locality and see how many red light running deaths occurred where you live. To view the map, visit: Red-Light Running Fatality Map
To learn more, visit: Stop on Red Week 2015