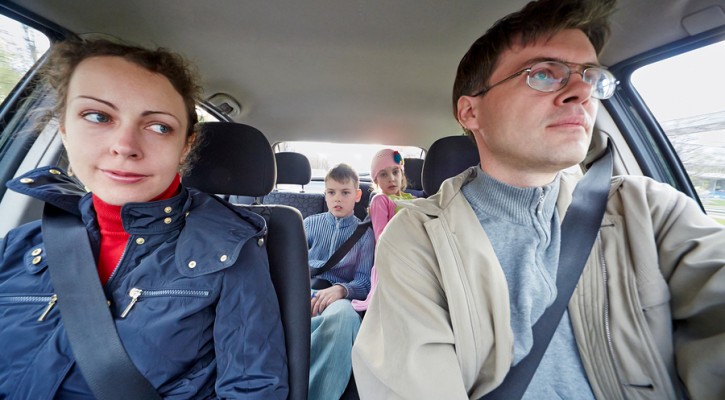 Tips for Driving with Children or Pets in Your Car
January 27, 2009
Anyone who has children knows what a distraction they can be while driving.
Children who are bored, hungry, or fighting with their siblings can turn a pleasant family outing into a stressful situation. A 2006 AAA Foundation study found that 80% of crashes involved driver distraction within 3 seconds of the event. With this in mind, when driving anywhere with children, pre-planning, even on short trips, is critical.
Ensure that children have toys, games, coloring books, and books to keep them occupied. A good idea is to keep children's travel kits in the car at all times. A mesh bag for each child can be filled with age appropriate travel activities to keep the child occupied.
Some items that can fill the travel kit are:
• Coloring books (use colored pencils instead of crayons that can melt in a hot car)
• Travel versions of popular games such as Battleship, Guess Who, etc. that the children can play with each other.
• Travel sized versions of Etch-A-Sketch for each child.
• Travel sized hand-held electronic games.
• Small personal radios or MP3 players filled with age appropriate music and headphones for each child.
• Age appropriate books.
• Stuffed animals to act as traveling companions.
The back seat may become a bit messy but that is a small price to pay compared to a bored child
An excellent resource full of games, tips, and accessories for traveling with children is MomsMinivan.com. This website also has great information on how to deal with car sickness.
If you can afford it, portable DVD players with the children's favorite movies are a great way to keep the children occupied. Just remember that DVD screens are not allowed to be in view of the driver. If a DVD player is out of reach, local libraries have audio books that the whole family can enjoy together.
Children (up to 4′ 9″ tall) should always be properly secured in a child safety or booster seat with safety belts. Never allow the children to get out of their seat belts when the car is in motion. Information on the proper use of car seats can be found at the American Academy of Pediatrics website.
Traveling With Pets
Pets, no matter how well trained, can be very unpredictable. Pets should never be allowed to wander around the car or sit in the driver's lap. Small pets that could jump or fall to the floor where they can interfere with the driver's operation of the foot pedals can be especially dangerous.
An emergency stop could send a pet plummeting to the floor or into the dashboard where they could be injured. Pets should be secured in a car pet carrier or with a pet harness (available at pet stores) that can be attached to the seat or seat belt.
Rawhide bones can occupy a dog for hours and remember that pets need rest stops too. Make sure you have food and water available on a long trip.
Never leave children or pets unattended in a hot car. Even when it is relatively cool outside, temperatures inside a sealed up car can very rapidly reach dangerous levels on a sunny day.