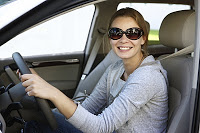 Teaching teens how to drive is only the first step of becoming a safe driver. To become confident and competent behind the wheel it is important that they learn defensive driving strategies. Whether they have just received their license or have been driving for a year, defensive driving school is an opportunity to brush up on the rules of the road. Even though teens as new drivers are starting off fresh, as new learners, sometimes they need a little reminding.
Here are five important reminders for teen drivers:
1. Failing to prepare is preparing to fail. Surveys conducted by several driving safety organizations have yielded the same result: teen drivers think that they are better drivers than other drivers. Preparing to drive means preparing the vehicle for safety and mentally preparing the driver to be focused on driving, and nothing else, when a teen driver gets into the driver's seat.
2. Seeing signs. Ever notice those things by the side of the road sometimes? Those are meant to be followed. Speed limits are put into place not by some arbitrary decision: road engineers have taken the time to study traffic flow in an area to determine by which speed it is best to drive at.
3. Undertakers love over takers. It's easy for a teen driver to lose his or her cool when another driver cuts them off, or overtakes them. Some motorists go so far as driving fast to catch up to the drivers who did it to them. Simple advice: let them go on. It's not a race and it's not worth the risk of a ticket or crash.
4. Distraction is two letters away from destruction. A teen driver may feel that they can ABSOLUTELY do something else while driving, while statistics and surveys often prove otherwise. Surprisingly, teen drivers fail to acknowledge that having other teens in the car is one of the biggest distractions from driving. Eat/text/call/change tunes BEFORE starting the car.
5.Drinking, drugging and driving DO NOT mix. That goes with prescription drugs and over-the-counter medications that may impair driving ability too. Teen drivers often underestimate the effects of alcohol, and what they don't know is, when they get a DUI, it haunts them for a long time. It follows them when they look for jobs; apply for scholarships or when they are going to pay for car insurance. Not to mention that it also puts themselves and other motorists at risk.
If you area teen or know a teen, share these important reminders for safe driving, Driver education is continuing education, especially during the teen years.