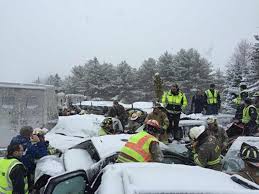 75 Car Pileup Caused by High Speed
March 5, 2015
Investigators have determined that most drivers Involved in a 75 car pileup on I-95 near Bangor Maine last week were ignoring the posted, lower speed limit and driving too fast for conditions. As a result of the crash, seventeen people were transported to area hospitals, two in serious condition.
Interstate highways in Maine are equipped with flashing, hazardous weather speed limit signs. When road conditions warrant it, the speed limit can be lowered to a safer posted speed. The signs are also equipped with speed detectors that can record the speed of vehicles on the road. Investigators looking at the recorded data found most drivers were traveling an average of 10 mph above the posted speed of 45 mph. At least one driver was traveling at a speed of 73 mph.
The combination of snowy weather, darkness, and speed led to the biggest multi-vehicle pileup in Maine's  history.
Speed limit signs are posted for ideal conditions. Drivers have a responsibility to adjust their driving speeds when weather or other conditions warrant.
Read more: Speed led to 75-car pileup on I-95, speed limit sign recordings show