Category Archive: Children and Cars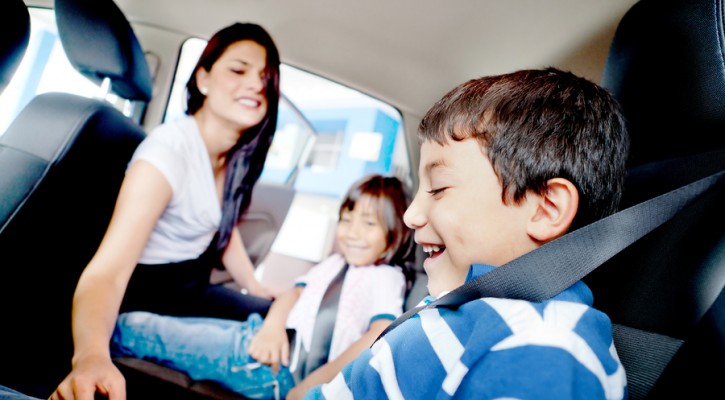 One in five parents put kids in cars in danger by "bending the rules" according to a survey conducted by Safe Kids Worldwide and funded by the General Motors Foundation. In the online survey, parents admitted that, when carpooling, they sometimes bent the rules by allowing kids to ride without a booster seat or even without seat belts.
According to Safe Kids, "Sixty-one percent of parents say they notice other carpool drivers bending the rules. Safe Kids research also shows that one in four parents report they don't buckle up their children on every ride."
Even on a short trip, the dangers of a crash are high. Most car crashes happen within 25 miles of home and at speeds under 45 mph. The reason for that is simple; your chances of being involved in a crash close to home are greater because that's where you drive most often.
School age children should be belted into a booster seat seat until they are big enough to wear a seat belt properly. Safety experts say that kids should remain in a booster seat until they are at least 4'7" tall and weigh between 80 and 100 pounds. For most kids that's between 9 and 11 years of age.
According to the National Highway Transportation Safety Administration (NHTSA), motor vehicle crashes were the leading cause of death for children age 4 and every age 11 through 14. They are the second leading cause of death for ages 5 through 10. NHTSA data shows that, "among passenger vehicle occupants 5 and older, seat belts saved an estimated 12,174 lives in 2012. If all passenger vehicle occupants 5 and older had worn seat belts, 15,205 lives (that is, an additional 3,031) could have been saved in 2012."
Even on short trips, kids in cars need to be buckled into a child safety seat appropriate for their age. Parents who carpool should never take more children than the number of seat belts available in the vehicle. Carpooling parents should also arrange to swap out car seats and booster seats.
Don't place yourself in the position of a parent who says "If only I had…."
For more information, read: STUDY REVEALS 9 OUT OF 10 PARENTS MOVE THEIR CHILD FROM BOOSTER SEAT TO SEAT BELT BEFORE THEIR CHILD IS BIG ENOUGH