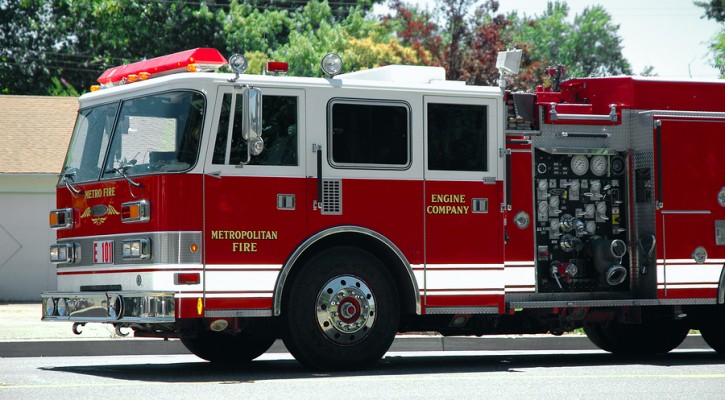 Decoy Used To Enforce Move Over Law
November 18, 2014
Police in Woodbridge New Jersey recently used a decoy fire truck to enforce that state's Move Over Law. In spite of the fact that a large fire truck with its emergency lights flashing was posted on the road's shoulder, many motorists paid no heed and refused to slow down or move to the far lane.
The first Move Over Law in the US was enacted in 1996 and, as of 2012, all 50 states have some form of Move Over Law that requires motorists to move over into the opposite lane or, if they can't move over, to slow down when they encounter emergency vehicles on the side of the road. In spite of the law, according to estimates, law enforcement officers are killed by the side of the road at a rate of one per month and approximately five firefighters per year are killed. Surprisingly, tow truck operators are killed at an even greater rate.
New Jersey's law was enacted in 2009 and requires that motorists who can't move over into the opposite lane slow "to a reasonable and proper speed for the existing road and traffic conditions, which speed shall be less than the posted speed limit, and be prepared to stop." The law not only includes police and fire vehicles but also tow trucks, highway maintenance, and service vehicles that are displaying emergency flashing lights.
This year, Florida amended its Move Over Law to include garbage/sanitation trucks and utility (gas, electric, water) vehicles in addition to police, fire, and tow trucks. Under Florida's law, motorists who can't move over are required to slow down at least 20 mph under the posted speed limit.
Enforcement or Entrapment?
In planning for the use of the fire truck decoy, Woodbridge police set up rules:
A Move Over Law education program using billboards began on the routes in question several months before the start of the enforcement program.
The fire truck was placed on on a straight section of road where a traffic light before the fire truck provided a natural break in traffic.
Officers had to verify vehicle speed with a laser gun.
Only vehicles that had a clear break in traffic to safely move over or slow down were monitored.
Fortunately, the majority of motorists that were monitored did slow down or move over. Unfortunately for some, the only way to get their attention is by issuing a traffic ticket. The first driver cited for failure to obey the law was traveling at 62 mph and made no effort to move over or slow down.
With the holidays approaching and the roads filled with travelers and shoppers, emergency personnel will be out on the roads in force. Protect the ones that protect you by obeying the Move Over law. Read more: Police use 'decoy' firetruck to educate drivers on Move Over law