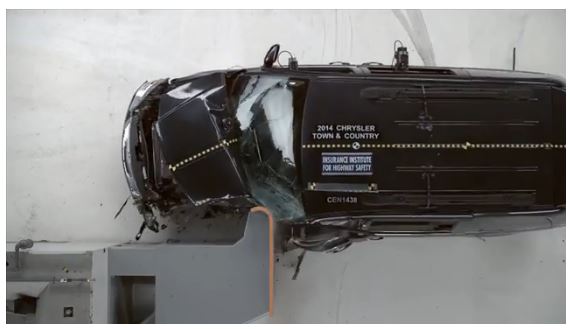 Minivans Fare Poorly In IIHS Crash Tests
November 24, 2014
Minivans are popular vehicles for families with children however, those families thinking about buying one will want to look carefully at the crash test results for those types of vehicles. The Insurance Institute for Highway Safety (IIHS) recently issued a report on the results of their minivan crash tests. Only two minivans received an acceptable rating and three received a poor rating.
The IIHS only started evaluating cars in what are known as small overlap crash tests in 2012. According to the IIHS, frontal impacts are the most deadly type of crash and the small overlap crash tests are designed to imitate a common type of crash where the vehicle strikes an object on the front side; as in a crash against a tree or light pole. This type of crash generally bypasses the vehicle's main energy absorbing structure.
In the most recent minivan tests, the Nissan Quest, the Chrysler Town & Country and its twin, the Dodge Grand Caravan, all earned poor ratings. The crashes in these three vehicles showed major intrusion into the driver compartment that would result in severe and possibly fatal injuries to the driver.
It's felt that the minivans fared poorly because many minivans are built on car chassis but are generally wider than cars. The wider vehicle extends out over the main structure.
Two minivans earned acceptable ratings; the 2015 Toyota Sienna and the Honda Odyssey. Toyota modified the 2015 Sienna model to better withstand the small overlap crash test. However, even with the modification, there was still some intrusion into the driver's compartment and the dummy's head slid off the side of the airbag. The seat belt also allowed the dummy to move too far forward. Those results earned the Sienna an acceptable rating but, when combined with a crash avoidance system, it earns a top safety rating.
In the case of the poorly performing 2011-2015 Nissan Quest, there was more than two feet of intrusion into the passenger compartment. The dummy's left foot was trapped between the seat and the instrument panel and the right foot was trapped beneath the brake pedal  and toe pan. Researchers had to cut the seat out and use a crowbar to remove the dummy's foot. According to the researchers, a person who experienced this type of crash would be lucky to ever walk normally again.
The only minivan not tested by the IIHS was the Kia Sedona. The manufacturer stated that they are making modifications to the vehicle's structure and it will be available for testing soon.
Read more: Minivans with a major flaw: 3 models have dire small overlap results
Photo: Courtesy of IIHS