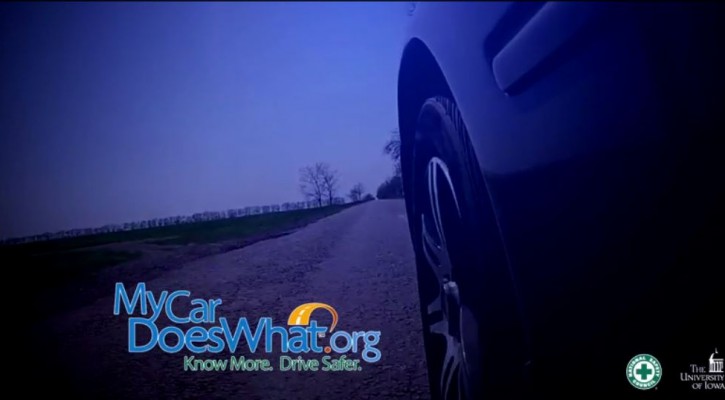 For those with a new car or those considering the purchase of a new car, My Car Does What.org offers an explanation of new car safety technologies available in new vehicles, including some that buyers may not have been aware were available.
Funded by the Toyota Safety Research and Education Program Settlement the site was developed by the National Safety Council and the University of Iowa.  With new car safety technologies entering the market at a rapid pace and older technologies being updated, the website is designed to inform vehicle owners about the different technologies and teach drivers how to use them.
A lot of new car safety technology is getting a lot of press such as crash avoidance and lane departure systems but some new safety systems may be surprising to drivers including:
Terrain management – adjusts speed and suspension systems when moving from paved to unpaved roads.
Hill descent assist – aids drivers balance the need between braking and speed depending on the degree of the downhill grade.
Hill start assist – When stopped facing uphill, keeps the car from rolling back by holding the brake until the gas pedal is activated.
Health and workload monitoring – Monitors a driver's vital signs and can alter car functions during a health emergency.
Cornering braking control – Adjusts the brakes independently to keep the car on the road if a driver is approaching a sharp curve or corner too fast.
Other explanations of new and updated car safety systems include:
Anti-lock braking
Forward collision warning
Adaptive and active suspension
Adaptive headlights
Automatic emergency braking
Electronic braking assistance
Obstacle detection
Pedestrian detection
High speed alert
Adaptive headlights
Night vision
Adaptive cruise control
Tire pressure monitoring
Road surface warning
Back-up cameras
Lane departure warning
The actual list of features is much longer and the website includes both written explanations and videos on each car safety system. It also includes information on auto safety research.
Read more: My Car Does What.org